To tell you the truth, I'm not really digging Bella's clothing in Breaking Dawn.(so far from what I've seen) The only thing I could see myself wearing is the AE Henley. But even then I'm not desperate to own it. I'd be happy with an alternative.

However, I'm loving Sookie Stackhouse's wardrobe in True Blood! She always manages to look cute yet sexy at the same time. I adore her style and wish I could own all of her wardrobe! The dresses she wears are adorable and I've recently purchased a few in that style. I may post photos of those too. I'm secretly hoping that me wearing dresses will make Spring come along faster! I'm over Winter!

Well I made my first Sookie purchase, which was the American Eagle Floral Garden Dress. I bought it a couple of weeks ago and am currently postman stalking as I type! USPS purchases are having serious issues with making their way to me, in a timely matter lately. eg Express Post normally takes 3-5 days but is taking 2-3 weeks! So not cool!! Grrrr....

Anyway fingers crossed that it isn't the case with my parcel. Can't wait for it to get here! Will post pics when it arrives
Yes I'm baaacck!! But not as full on as before as I was spending way too much time and money on my Bella clothing collection. I feel that I am more balance about it all now and am only looking to acquire items that are afforable and ones that I would actually wear!
Well I was lucky enough to stumble on an actual Vintage Pop Leather Jacket (same brand as miss Stewart) and it was my size for the most amazing price. Score!!!
Enough ramble here are some pictures for you!! I can't begin to describe how happy I am with this jacket. Its so soft and fits like a glove. Size 34 btw. If you want links to the seller let me know.
One word of advice when ordering this.....there are some sellers that sell this but only show a stock photo, not the actual one that will be sent to you! These jackets are all different (the seam stitching) as they are made from recycled leather jackets. Make sure to ask the seller for a photo of the jacket you will receive or alternatively send them a photo of Kristen's jacket and say you want one that looks the closest to that! I just asked to be sent one that looked the closest to the stock photo and mine definitley does.
JACKET ITSELF
ME TRYING TO MODEL IT (I just got out of bed haha)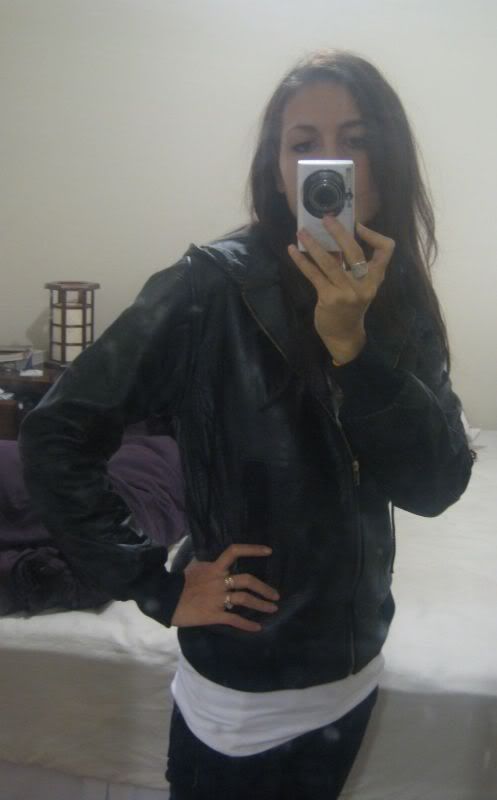 Yay my Pop Jacket finally arrived. It got here in about a week, which is pretty fast to Australia! I really liked the look of Kristen's jacket and looked everywhere around me to find one similar, didn't even have to be real leather but couldn't find anything I liked ! Well actually I did find a real leather one but it cost $200 and I wasn't prepared to shell out that much! And then there was that one that was made of black crinkly vinyl with sparkles...ummm no. haha
With Jeans (Shirt Loose with Belt) With Shorts (Tucked in Shirt)
I adore the plaid shirt that Bella is seen wearing in the latest Eclipse shots! (with her getting frisky with Mr Sparkles oohh la la!) I was shopping and this plaid shirt immediately caught my eye! It reminded me of it so I looked to see how it would fit. Was so excited to see an XS!! Its so soft and comfy, like I'm wearing a baby's blanket. Its very versatile too as you an see in my photos. (tucked in, loose, or with belt) I wore it out last night with a belt and jeans and I'm very happy with it!


ANYWAY!....I noticed the envelope seemed a bit broken and dodgy but I didn't think anything of it and ripped it open eagerly. Suddenly fluff and bits of paper went everywhere!! What the hell?? It was a padded envelope and it somehow burst (was dodgily taped up on the outside grrr) and the contents of the stuffing filled the envelope and coated everything inside!! And getting papery lint crap off every inch of clothes isn't the easiest task.

I had to take it outside as it was making the biggest mess all over me and the floor. When I'd finally cleared off enough to be able to see the shirts I noticed that my precious blue henley had a big hole at the front near the pocket!! ARGH!! Its so obvious too. I could have cried!!

The seller promised a partial refund, which I'm still waiting for. Not impressed! Sorry if I bored you, just needed to vent!! Hopefully I'll look back at this and laugh.

On a plus note, the other shirt (not Bella related) is super cute and fits great! I might post a pic of it on the Bellafashion page.
I've been waiting for my latest purchase to arrive and expected it today. It was an Ebay win of the blue henley that looked very similar to the green one Bella wears when she meets the Cullens! I also ordered another shirt with it. I was so excited when I heard a knock at my door and it was my pal the delivery guy! We just moved into out new house a month ago and I bet he wonders why I get so many packages! He now knows my name and we have little chats at the door haha.
Tilly Slub Burnout Hoodie
I got this as an alternative to the Curious Gypsy Thermal that is worn during Twilight. Shirt is sheer so you need to wear something underneath is you want to avoid extra attention! This also has cute thumbholes. Wearing a Size Small. Bought on Ebay.
New Moon Vest Alternative.
I haven't been able to locate the exact vest that is worn during New Moon. It is worn with the Billabong Hannah Jacket. However I bought this, which is very similar but in a different colour. Its made by Ben Sherman and its a size small. I've never owned a vest before and I love this, its so cute!
By Itself
With Billabong Hannah Jacket
SWASH and STITCH BAG
I just got this in the mail today!! Bella uses a larger version of this in Twilight and New Moon. wow it is so much more amazing in real life. I got the smaller version, which is the perfect size for me. I think the larger size would have swamped me. Angie's work is beautiful!
Finally I've had time to do another update. I still have a couple more things that I'm waiting for but in the meantime, may I present....
FCUK Jack Dress
- This was worn by Kristen Stewart during Twilight promotions. I adore this dress but unfortunately it was too big for me (as you can see haha) It felt like the whole thing was going to fall down when I moved. Took a photo of it anyway so you guys could see! Its off to a new home now. Hope she likes it! This is a UK size 8 or US size 6. I think I would need the next size smaller. Bummer :(

Splendid Green Henley
- Similar to the one worn in Twilight when meeting the cullens. Obviously doesn't have the front pouch and other stitching detail but I still wanted it. Wow this is so much nicer in person than it looked on ebay. A medium and a bit big for me but I still really like it. I think its very slimming. The green is gorgeous, LOVE IT!!
Splendid Stripe Henley
- The same style worn in Twilight when she is in Port Angeles but in a different colour. Size Large. Big on me but I kinda like the looser fit. Fits more like a sweater on me than a henley haha. Still deciding whether to keep it or not....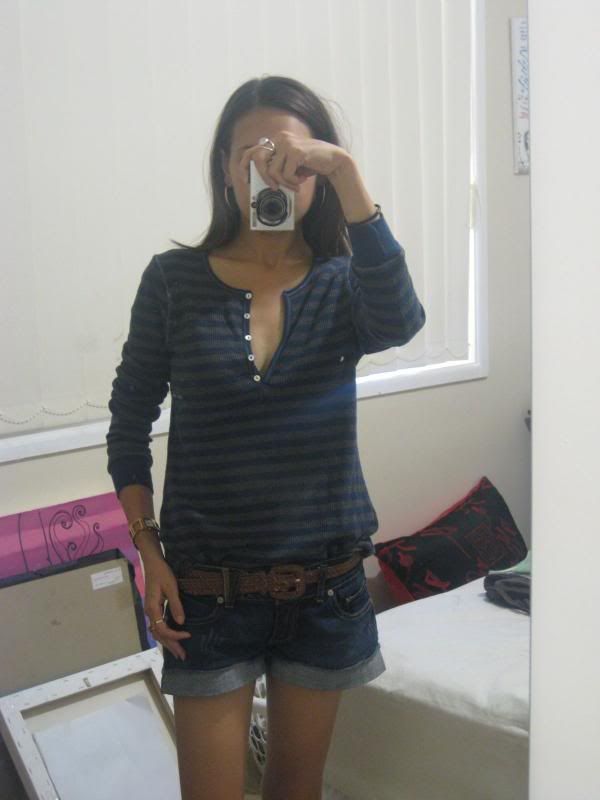 Hollider Cami Brown
- Size Small same style worn in New moon except brown not grey. This is so soft and quite figure hugging. Its tight in my chest area so I have to go without a bra. (It has a bra built in luckily) Very comfy! There are no spots on the shirt its just a very dirty mirror sorry!

Bella's Brown Leather Bag
- I've ordered myself one of the bags that Bella uses in Twilight and New Moon. Its being made up right now and takes about 4 weeks. Can't wait!! Pictures when it arrives :D
Alright Here are my latest goodies...Enjoy! Didn't realise my mirror was dirty until after I'd taken the pics oops!


I was showing him the Hillywood Show's New Moon paraody and was telling him how they use exact replicas or look-alikes from the movie. Suddenly a scene flashed up in the bedroom and he recognised the bed set as similar to ours!!!

Here was the conversation...

Him: Hey! That looks like our bed set!
Me: oh yeah I guess it does! What a coincidence...
Him: Hang on...did you buy our one because of Twilight?!
Me: um no...I just thought it looked nice!
Him: ((Raises eyebrow)) I can't believe I've been sleeping in a Twilight Bed!!

I then crossed my fingers the whole time that he wouldn't recognise other outfits that appeared in the parody!
So I guess that confirms the similarity of the bedset I bought! lol
I usually keep my wardrobe look-alike purchases to myself (from my husband) because I let him know about some things and get teased enough about it! But last night I was caught out!
H&M Plaid Shirt.
woo hoo this arrived today!! I found this similar shirt to the one that Bella wears in Twilight and New Moon. The shirt features front snaps and shoulder tabs. She wears a H&M shirt like this with a grey long sleeve shirt underneath. Bellas is a different colour combination. I found this for a bargain price on ebay and it fits me perfectly at a size 34. Not too tight or too loose. Its a very flattering fit. The colours don't show up too well in these photos but it is black, grey, blue and purple.This shirt is so cute and I can't wait to wear it out! Instant Love!!!





- H&M Plaid button up shirt. The same one that is worn in twilight and new moon but in a different colour that is more my style. ARRIVED!!

- J brand Pencil Jeans in Ink (As seen in New Moon and on KStew) I've been waiting for weeks for this to show up so hope it arrives soon!

- Splendid Stripe Henley. The one featured during Bella and Edward's Port Angeles dinner. In a different colour.

- French Connection Strapless Plaid Jack Dress. As worn by Kristen while promoting twilight. I fell in love with this dress as soon as I saw it and can't wait for this to get here!! Really hope it fits!

- Hollister Cami in Brown. The same style as seen in New Moon on promo pics and in the movie. Brown instead of grey.

- Patterned Sweater Vest. Very similar to the one Bella pairs with the Billabong Hannah Jacket in New moon.

- Green Splendid Henley - Similar to the one when she meets the cullens. Doesn't have kanga pocket though.


Until then!!......
That's all for now guys but I've got a few things on the way so will post pics and my thoughts as they arrive! On the way I have....
DEFEND NEW ORLEANS SHIRT - Indigo Tri Blend
This is one of my favourite tees! Its so soft and feels like I'm wearing nothing! The colour is stunning and proceeds go to a good cause, which is even better. I'm wearing a size Large in ladies because I wanted a more relaxed fit. I usally tuck it in a bit and poof it out because its a bit long for my liking. In hindsight I probably should have got a size medium for the fit I was after. Looks heaps darker in my photo because the lighting was bad. The colour in Kristen's photo is pretty much spot on!
Bought from the official Defend New Orleans Site.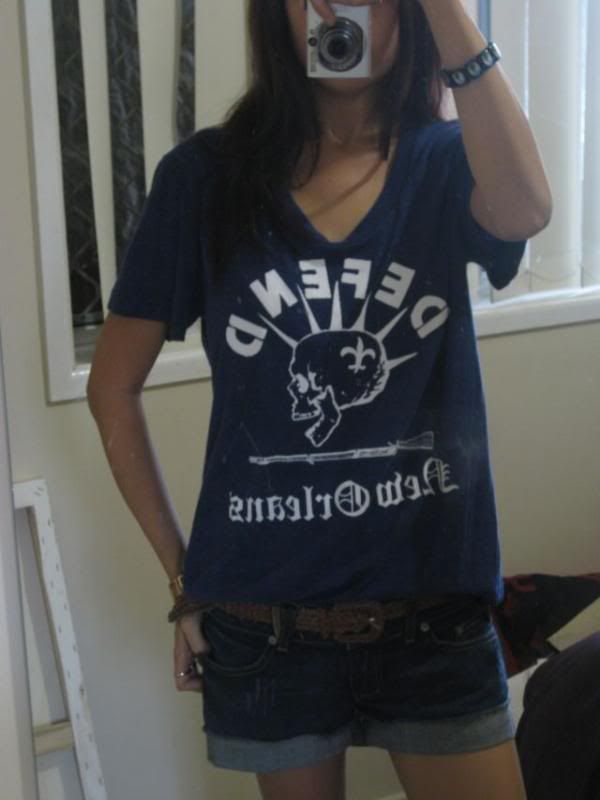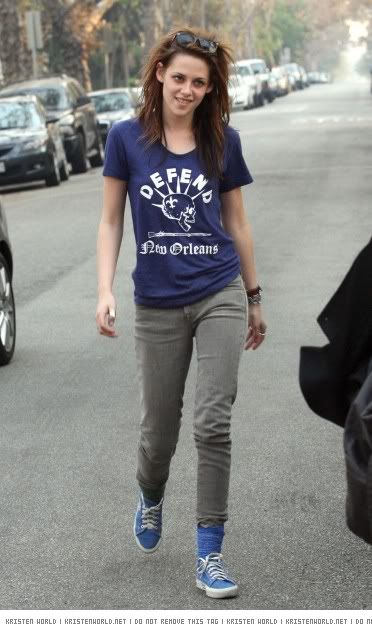 WWF Zebra Tee
Here's another shirt that goes to a great cause. I bought this from a sweet seller on Ebay. I have this in a size medium and a size small. The small definitely fits better. The V on the medium drops too low for me and I felt like I was constantly flashing people. The small is pretty good too but I think an XS would have fit me best. This isn't the exact same one that Kristen wears but is similar. There is writing all down the back of the shirt. If anyone is interested I can post what it says, I'm just too lazy atm but will get around to it.
My shirt just came out of the wash so the v looks crinkly. It normally isn't and sits flush. Its also a bit long so I usually knot it at the side.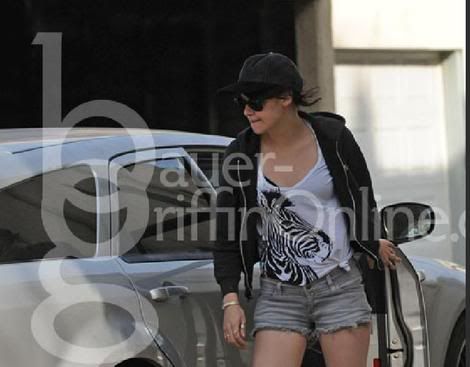 Hawaiin Scroll Ring
This is worn by Kristen Stewart. The script reads KUUIPO, which means sweetheart. Its sterling silver and great quality. Its quite thin and light. I Wear this on my thumb everyday in a size 6. The back of the ring is made up of a flower design. Maybe hubiscus? The detail on it is beautiful. Another ebay find.
I've also been dabbling in KStew's relaxed style. I often look to her for inspiration and mix it up with my own personal style as well as Bella's, depending on my mood or where I'm going. Its fun playing dress ups! haha